Effortlessly Get & Keep More Clients.
Monthly done-for-you marketing that builds trust and credibility for your pet business
instantly and over the long-term.
Learn. | Decide. | Do. | Get a Marketing Habit.
The most affordable, effective, authentic way to easily and quickly improve your marketing... is to get into a Content Marketing Habit. The key to success with content is NOT getting it PERFECT - it's STARTING and being CONSISTENT! It's that simple.
Doors Close July 28th at 9pm ET
Grow Your Pet Business with Confidence

You didn't start a pet business to create a crappy stressful job for yourself.
Entrepreneurship is supposed to be about
freedom and joy, not guilt and stress.
We all deserve that: the freedom, space and support
to be curious, creative, generous, wealthy and well - to experience more joy:
not by hustling, but just by being who we are
.
We help our members tackle their marketing and
grow their businesses in ways that feel more like freedom and joy
(and less like constantly chasing the latest trend)
but when we asked them... here are some
hidden benefits
our members mentioned:
More Confidence

Increased Clarity


More courage

Finally getting consistent

Community & Connection
All of this is available to you too... join us and set aside
just 2-4 hours a month!

Warm, welcoming community of Petpreneurs just like you
Marketing simplified & demystified - FUN even!
Post our templates as-is, or make them totally your own
JUST LOOK WHAT'S POSSIBLE WHEN
You Get the Support You Need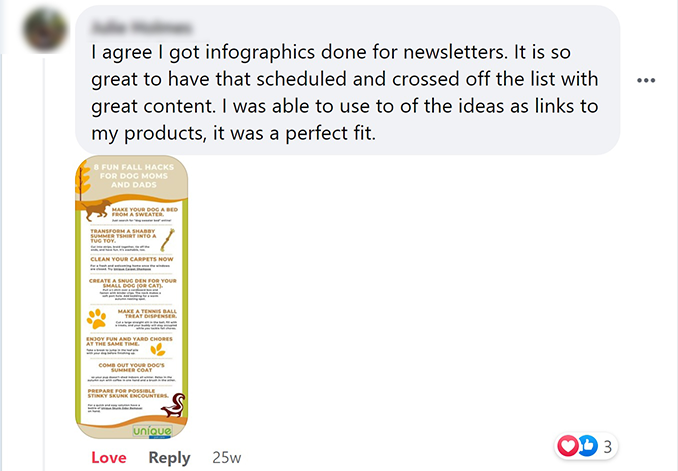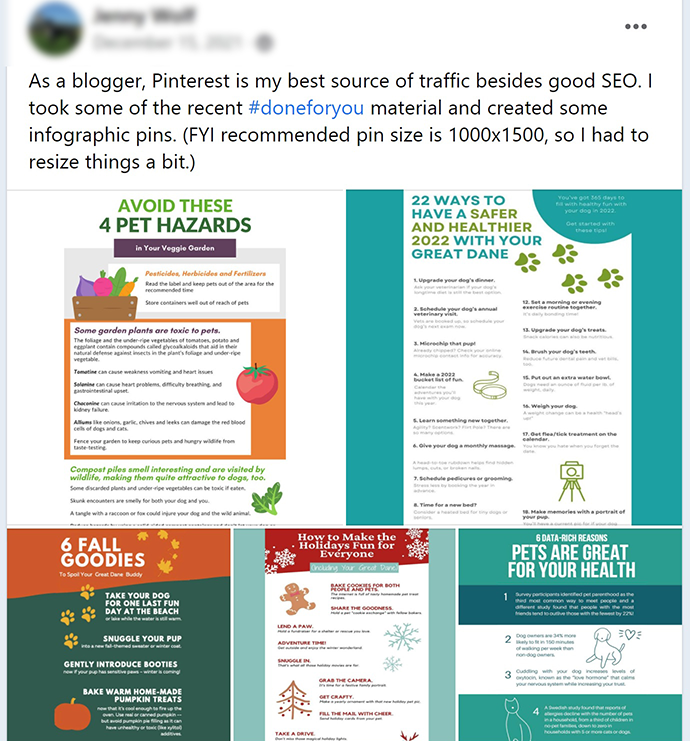 THIS EMAIL LITERALLY JUST CAME IN...
WWD is an Incredible Resource!
"I wanted to let you know that I think WWD is an incredible resource! When I was trying to get my new business off the ground, I was so grateful for the access to marketing, and Nic and Jane as experts that offered up their time and experience for such a reasonable price!


I love what you guys are doing and will recommend you to everyone in the pet industry that I know. It is so invaluable and you both are a pleasure to work with."


- Cheryl,
Happy Hearts Dog Adoption Services
Sustainable Respect +
Sustainable Impact
Purposeful Pet Business
We also believe that the only sustainable way to live and work in community is to
give back more than we take...
So in our world, building a powerful pet brand requires focusing on profit and purpose
equally.
For us and our members, giving back isn't just important, it's a top business priority.

But generosity requires boundaries so we help our members find the sweet spot between business growth and positive cause-driven impact.
WHAT DOES WWD MEMBERSHIP INCLUDE?
Done-for-You Marketing, Expert Coaching & Unlimited Resources
Everything you need to master a marketing habit: grow your business and free up your headspace so you can finally focus on the important sh*t
What do You Get as a WWD Member?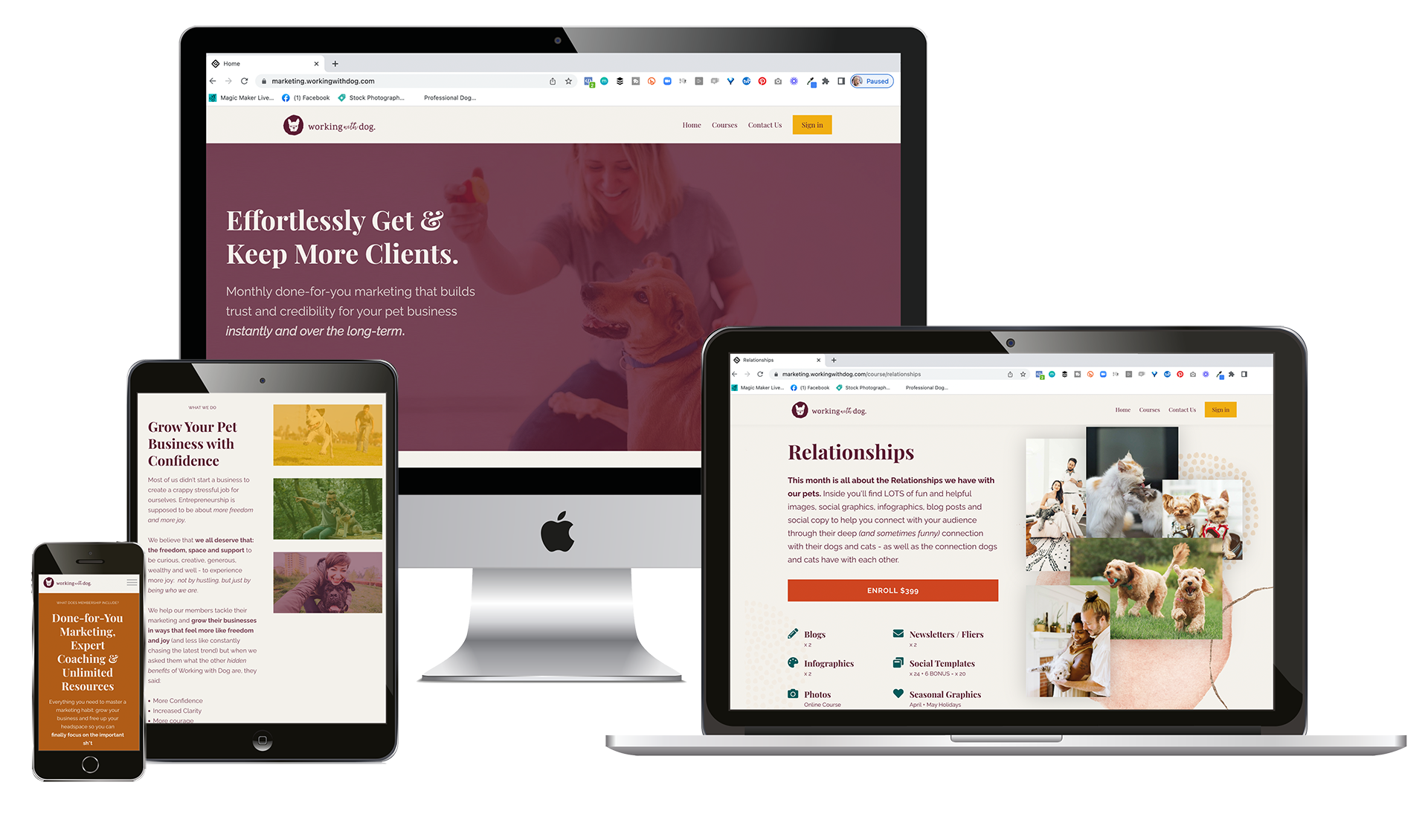 Done-for-You Blogs
Two fill-in-the blank blogs a month, ready for you to customize add post.
Done-for-You Fliers
Two simplified versions of the infographic - perfect for printing and sharing or sending in your emails.
Done-for-You Newsletters
Two done-for-you newsletter concepts each month ready for you to send to your list.
Creative Copy
Each blog, newsletter and social template comes complete with cheerful, well-researched copy.
Done-for-You Social Media Templates
Tons of graphic templates, built in Canva in multiple sizes, ready for you to customize or post as-is.
Stock Photography
Each of the blogs and social posts comes with perfect ready-to-post images.
Done-for-You Infographics
Two long explainer graphics for each newsletter topic: perfect for establishing your authority and encouraging re-shares.
Hashtags
Each social template comes with one or more hashtags - perfect for helping your posts get found.
Coaching & Accountability
Accountability Call with Jane
Two hour call at the start of each month to have Jane help you get all your marketing done - LIVE.
Weekly Accountability
Threads in the Facebook group each Monday and Friday to help you focus for the week.
Monthly Live Coaching Call with Nic
Group call at the end of each month to answer your q's, do hot-seats, share wins and connect.
Workshop Hours with Nic
Thread in the Facebook group to get Nic's help with copy, design, color, pricing and more - LIVE.
Quarterly Implementation Days
Full-day workshops once a Quarter to tackle a big topic or project and work on it together - LIVE.
Data Date with Jane
Thread in the Facebook open for 24 hrs where Jane will answer your data, analytics and insights Q's.
6 Years of Learning Assets
Hundreds of videos, articles, tutorials, how-to guides and more at your fingertips on every marketing topic under the sun.

Freedom Roadmap
A complete step-by-step formula to help you build a powerful brand (instead of just a business) - with links to resources inside the Academy to help.
Dozens of Planners & Workbooks
Put what you learn into action right away by using one of our many workbooks.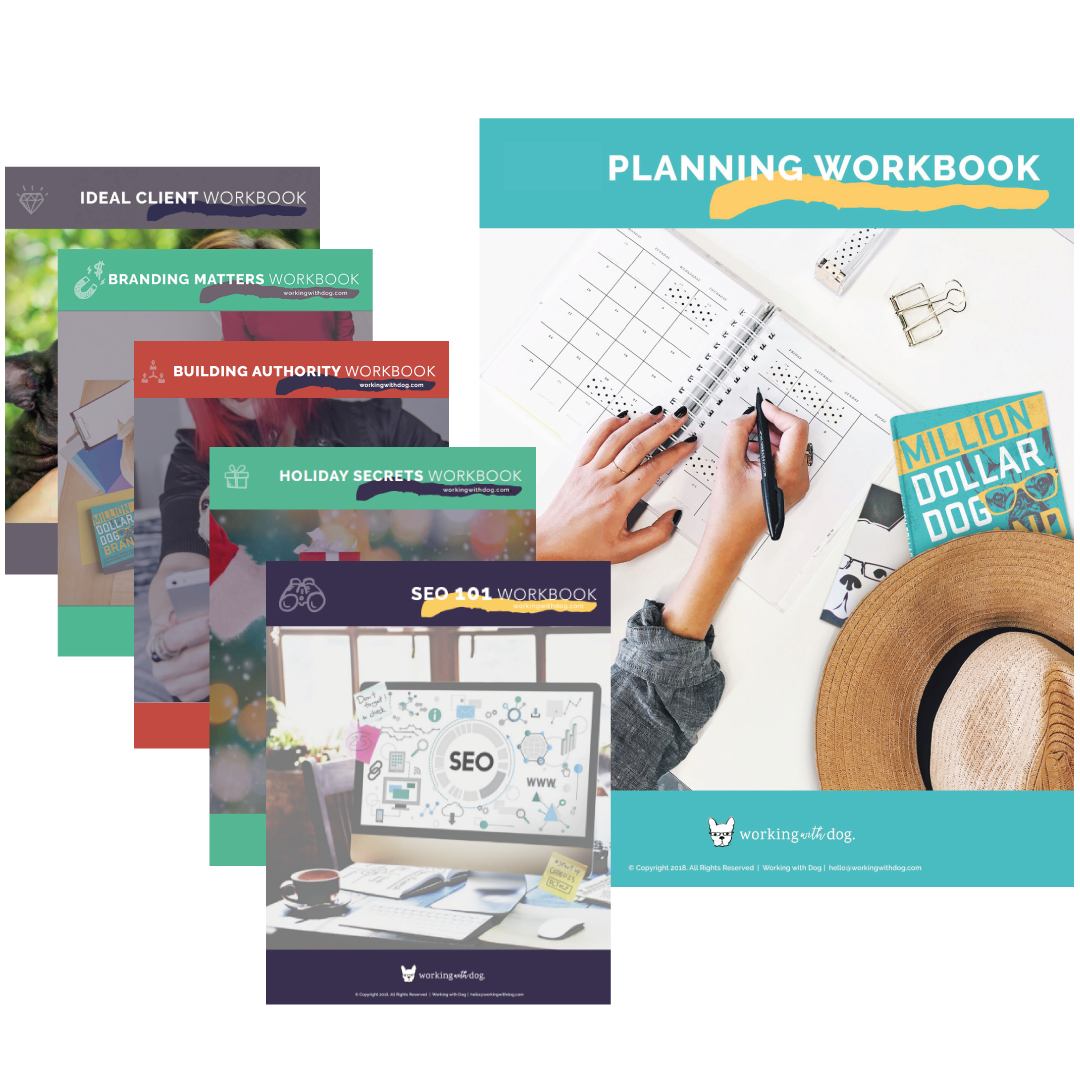 A Few of the Themes include...
Sales Pages / Pricing
LinkedIn / Instagram
YouTube / Facebook
Facebook Ads / Pinterest
Authority Building / Delegating
Design / Whyfinding
Contests / Productivity
Promotions / Launching
Video / Photography
Content / Google Analytics
Google Adwords / Website Audit
Beating Burnout / Going Live
Sales Funnels / Black Friday
Podcasting / SEO
Ideal Client / Email Marketing


Bonuses worth over $2500
Check out the special goodies we've got on offer for those of you who are ready to jump in and get your marketing habit going now. Be quick, or you'll miss 'em!
Get a complete step-by-step blueprint for Nic's signature sales page. Includes how-to guide Plus psychology-driven copy templates for headlines, product descriptions and more... Value: $999
Get one of our most popular done-for-you content themes: a powerful puppy content pack, including:

Quick Tips to improve your Puppy's manners, Baby wars: puppies vs kittens, When cute just isn't enough, and first 15 days with your new puppy... Value $299
Join us as an annual member and we'll be sending you a bundle of fabulous WWD swag including our much-celebrated (comfy as hell) 'geeky Frenchie' tee >>
ONLY FOR THE FIRST 10 ANNUAL MEMBERS
You'll be invited to a private group session where Nic will give you a hot seat audit of your brand and the first impression you're currently creating online. In just a short time Nic will give you priceless, actionable, science-based advice for ways to tweak your colors, messaging, design and imagery to ensure the first impression you're currently having lines-up with the impact you WANT to have.

This rare and wonderful opportunity is capped at 10 participants. Value $999
NEW MEMBERS WHO JOIN BEFORE JULY 26TH
If you join WWD in the first 24 hrs (before July 26th at 8pm Eastern) then you will get access to Nic's super simple (very brilliant) content planning system + calendar - which is designed for anyone from newbie to expert (Nic uses this very system in her role as VP of Brand for a pet tech company).

In this bundle you'll get a spreadsheet for your editorial calendar and a pre-recorded workshop and worksheet where Nic will walk you through her personal content planning system. PLUS you'll get a little 'ideal client avatar' workshop at the beginning of the content planning workshop video - so you know WHO the heck you're writing for!

She'll show you how to plan a YEAR's worth of content topics in 90 minutes. The process is super simple, flexible and designed to make sure you're getting your content right, every time, but without getting stuck in perfection. Gone will be the days of planning nothing, and posting your coffee because you've got nothing better to talk about!
WANT TO BE THE FIRST TO JOIN WHEN WE OPEN AGAIN?
Join our Summer Social
Membership Options
Quarterly
Maximum Freedom
Quarterly membership - Monthly Billing
Everything in the membership includes:
Done-for-you blog posts

Done-for-you newsletters

Done-for-you social posts

high-quality stock images
Done-for-you GRAPHICS

Done-for-you INFOGRAPHICS

Done-for-you HASHTAGS

DONE-FOR-YOU COPY

WWD ACADEMY ACCESS

WEEKLY COACHING

ALL DAY WORKSHOP 1x QRTR.

BI-MONTHLY LIVE CALLS

PROVEN MARKETING METHOD
Billed annually - Save $200
Everything in Basic Membership plus:
SAVE $200 / year

4x QRTLY ALL DAY WORKSHOPS

CUSTOM WWD TEE

CUSTOM WWD DAILY PLANNER

ACCESS TO BOOSTED
** BONUS: We find that generally members who commit as an annual members get more momentum & better, more consistent
results.
Billed Monthly - 6 Month Min
Only Available to Annual Members (+ $999)
JOIN as an ANNUAL MEMBER and then get in touch to let us know you'd like to add boosted!
LET OUR TEAM POST FOR YOU

MONTHLY REPORTING

CUSTOM RESEARCH

CUSTOM CHANNEL STRATEGY

MONTHLY 1:1 w/ Acct Mgr.

CUSTOM EDITORIAL CALENDAR
What are you Waiting For?
We have hundreds of screenshots and testimonials
from
our members sharing the amazing wins they've experienced in their life and business as a result of investing in themselves, and their
growth.
This Could Be You.
Honestly, what do you have to lose?